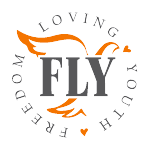 The FLY Center in Gyumri, Armenia
After years of endless hard work and fundraising, the FLY Charity purchases its own CENTER!!!
What a dream come true this is! This is the next big step in FLY's humanitarian work in Armenia. The FLY center will be the landmark for education, training, employment, therapy and wellness for children and families in dire need in Armenia. This beautiful center will have many different divisions. The primary focus will be on helping impoverished children and single mothers as well as disabled children. And through time, our divisions will only grow and expand.
It will be a place where children will advance in their education and be prepared to have wonderful careers, where single unemployed mothers will be trained to learn new skills to have stable jobs, where therapy and self-betterment seminars will always take place, and where miracles happen and dreams come true! And of course, our center will welcome volunteers from all over the world to participate in humanitarian work!
We are so excited and incredibly grateful to have the opportunity to make an extraordinary difference in the lives of the unfortunate in Armenia. This center will be a place of miracles. And step by step we will make it happen, together.
Now that the center is purchased, there is a lot of planning, fundraising & construction needed to officially open the center and get it going. Step by step, we will make it happen, together. A huge thank you to all of FLY's donors for your continued love and support and trust in FLY. And a huge thank you to our incredible team. Without you, this wouldn't be possible! Stay tuned for the wonderful journey ahead.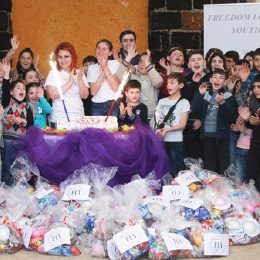 Armenia
FLY began helping children in Armenia in 2016 to aid children in orphanages and families living in severe poverty as a result of Armenia's catastrophic 1988 Earthquake. Although more than thirty years passed, thousands still suffer from the earthquake's aftermath. These families live in metal containers in inhumane conditions lacking the simplest of everyday necessities. FLY personally visits each one of these families, provides food, clothing, shoes, school supplies, hygiene products, household items, and all their everyday necessities. FLY also provides employment training, jobs, housing, and long term solutions for families. FLY is here to be the helping hand for families to stand back up again and build a new future. These cases are desperate and are in need of our immediate attention and care. Let's not turn our back on these children like the rest of the world has.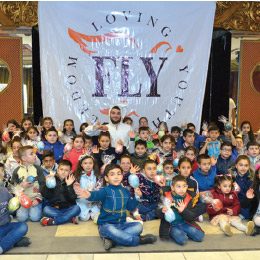 Syria
FLY has been aiding children in need in Syria since the beginnings of the war in 2012. Throughout these harsh years, many children were left as orphans and many families lost everything. FLY aided thousands of children with new clothing, shoes, school supplies, food, and all their basic necessities. Thankfully the war has settled, however, many families are still recuperating from the war's aftermath and children are still in need of everyday necessities their families can't afford to provide them. With the help and guidance of FLY's Spiritual Director H.G. Bishop Armash Nalbandian of Damascus, FLY's chapters in Syria continue to aid many children and orphans in need with all their necessities to this very day.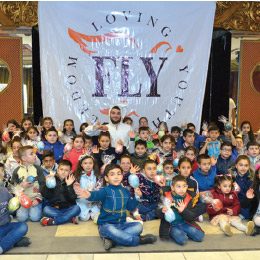 Lebanon
FLY established a chapter in Lebanon and began aiding those in need after Lebanon's traumatic explosion on August 4th, 2020. Since then, Lebanon has never been the same. Millions of people's lives changed for the worst and the country continues to face endless turmoil. People continue to suffer in the ongoing famine, economic depression, and poverty that has struck the country from all sides. In August 2020 after the catastrophic blast, our team set out to help all those affected by personally delivering large food supplies to families in need, as well as large medical supplies to urgent care centers. With the help of our community and our team's hard work, FLY was able to aid hundreds of families and many medical centers and made a great difference during that tragic time. Now, as the country is facing continuously worsening circumstances, more missions are being planned to help children and families who are suffering in poverty.